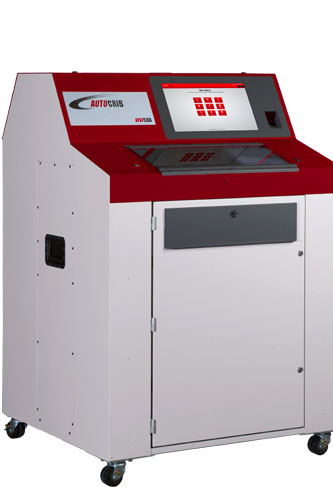 VISICAB®
Asset tracking and FOD control in a tool box format using the latest in object recognition software. No need for RFID tags.
THE BASICS
Materials/Finish
Sturdy steel construction and powder coated
Configurations
Options: 16-tray machines or 8-tray machines
Weight Capacity
320 lbs. per machine
Touchscreen Size
19″
Enclosure Dimensions
42.25"W (107cm) (Left to right) x 60.5H (153cm) x 38.5" (97cm) Deep (Front to back) left to right – with casters
Power
100-240VAC – 50/60 HZ, 6.5A/3.5A MAX
Warranty
12-month warranty
tags: Tools, Point of Use, Object Recognition, High Security, Field Configurable/Reconfigurable, Check in/Out
Product Details
---
Next Generation Industrial Vending with Object Recognition
The VisiCab® actually can see if the tools are there. It can even detect really small items like a .050 Allen Wrench! How do you tag that? You can't…but with the VisiCab® you don't have to. No RFID inventory control tags required! What's the secret? VisiCab® uses AutoCrib®'s advanced proprietary VAT (Vision Analytics Technology). We developed this truly innovative system for the military. It's an excellent solution for FOD (Foreign Object Debris) control but can used in any application where 100% of the tools and other items must be returned and accounted for.
Never have an Unaccounted for Tool Again
Instantly know when an item hasn't been accounted for and more importantly, know who has it, when it was issued, and what job and tail number it was issued for. This inventory control system prevents misplaced, lost or stolen tools from going unnoticed. It ensures your tools are completely 100% accounted for.
See the Tool Status at a Glance
You can look at the display and know if the VisiCab® has all the tools because it has a big green indicator showing the status of all the tools. It even highlights every tool removed in red with the user that took them in real-time. This makes it really easy to manage your tools. No more painstaking manual checks or long wait times holding production to ensure you got all your tools back.
The Most Effective FOD Control System
The VisiCab® is the best inventory control system for tracking issues and returns of tools on the job. It checks the entire tool tray, edge-to-edge. It actually knows the difference when tools are not in the right spot. It can tell the difference between tools that look nearly identical. And it can tell what objects shouldn't be in the tray. This system is far superior to other types of systems on the market that use optical sensors, weight-based switches, or RFID tags. With the VisiCab® you don't need to apply RFID tags or use only special modified tools. You can use your existing tools and not have to do a thing to them.
Fully Automated Tool Retrieval
It's easy to find exactly what you need. With a quick search the VisiCab® will find the tool you want and move the tray to you. Also, since the tool trays are on a rotating carousel, it is easy to get everything you need in one go like a one-stop-shop. Trays are driven by 2 simultaneously held buttons.
Extended Battery Power Options for up to 24 Hours
This industrial machine is portable, unplug it and roll it out on the flight line or point of use for a day's work using the systems up to 24-hour battery backup... then roll it back inside and plug it in, and it recharges and updates the main system database! No more trudging back and forth to tool cribs for critical tools.