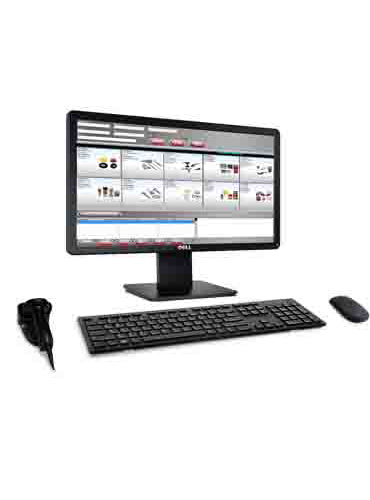 TOUCH TOOLROOM
Tool crib software in an ATM format. Turning your tool crib or stores area into a virtual inventory dispensing machine.
THE BASICS
Configurations
4GB Single Channel DDR3L 1600MHz (4GBx1) (370-AAPD), 500GB (5,400 Rpm)
2.5 inch Solid State Hybrid Hard Drive with 8GB Flash (400-AAMI),
Windows 7 Professional English 64bit
(Includes Windows 8.1 Pro license) (536-BBBL)
Weight Capacity
NA
Touchscreen Size
19 1/2″
Enclosure Dimensions
NA
Power
110VAC
Warranty
12-month warranty
Product Details
---
AUTOMATED TOOL CRIB MANAGEMENT
You can quickly and easily convert your manual tool crib to a virtual dispensing machine with the AutoCrib® Touch Toolroom Station. Just designate an existing tool room,tool crib or stores area as a tool crib, using AutoCrib®'s inventory management software. Install an AutoCrib® ToolCrib Station at the tool crib window — and now, tool crib attendants or users perform the data entry using a touch screen. After the user selects the desired items, a receipt with bin locations is printed to assist the attendant or user in locating the items within the secured area.
AUTOMATE ATTENDED OR UNATTENDED TOOL CRIBS OR BUILD A RUNNER SYSTEM
Automate your existing tool crib, room or store Issue/return tools without an attendant Capture transactions before unlocking the door to the tool crib Use at remote locations in a "runner system"
TOOL REQUESTS AT REMOTE LOCATIONS
You can also place Touch Toolroom Stations at various locations or remote work cells throughout a plant to create a "runner system". Users enter tool or supplies requests at the Touch Toolroom Station. The central tool crib prints out the order, and issues and delivers the requested tool by a runner (at lower cost), while keeping the operator at his work center.
ACCESS CONTROL, COST AND USAGE REPORTING, PLUS COMPLETE PURCHASING
AND RECEIVING SYSTEM
Touch Toolroom uses the AutoCrib® inventory management software (web-based AutoCrib.net or client/server software). The inventory control software features an Intelligent Dashboard with key metrics visible at a glance on one screen. Over 200 reports are pre-loaded for a complete inventory management system.