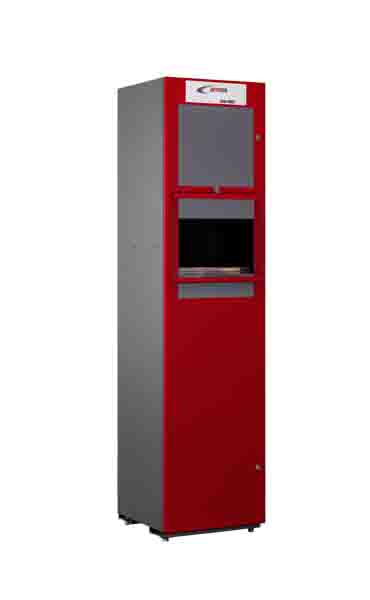 SCALEMATE®
Automate your supply chain and provide a tight inventory management system for small parts and fasteners with the use of weight based technology.
THE BASICS
Materials/Finish
Sturdy steel construction and powder coated
Configurations
NA
Weight Capacity
Handle weights up to 30lbs (13kg)
Touchscreen Size
NA
Enclosure Dimensions
16"W (40cm) x 65"H (165cm) x 16"D (40cm) with scale at 37" (93cm) up from ground level
Power
Compatible with RoboCrib® Line and is powered by companion
Warranty
12-month warranty
Product Details
---
FASTENER INVENTORY MANAGEMENT SYSTEM.
Inventory management with small parts and fasteners is difficult and time-consuming. Automation of this task allows your people to focus on value-added activities.
NO MANUAL COUNTING OF FASTENERS OR "GUESSTIMATES"
The ScaleMate® dispenses by weight, preventing the many drawbacks of drawer-based systems. It can detect when someone attempts to put something in the bin in an effort to change the issue quantity by confirming that the weight is divisible by the per piece weight assigned to that bin. If not, it will report bin contamination to the system administrator.
ELIMINATE WASTE WITH ACCURATE FASTENER COUNTS.
ScaleMate® lets you track exactly what you have in your fastener or small part inventory, and exactly what the demands are for every item. This enables you to increase your inventory turns and reduce stock-outs. Dispensing exact amounts also prevents extra fasteners from being accidently dropped into assemblies.
FORENSIC LOT TRACEABILITY
The ScaleMate® system ensures every lot is physically compartmentalized. Users only have access to a single bin at a time, lot numbers are never commingled, and every transaction is recorded. You can review when an item was stocked, when it was issued, who it was issued to, what jobs it was issued for, and other information showing the entire flow of your inventory. This is extremely helpful because you can track where the defective lot went and contact those customers quickly and efficiently.